About Peliton Plastics
Peliton began as and still is is a full service, plastic injection molding and manufacturing company located in the southeastern United States at Valdosta Georgia.

Peliton was founded in 1996 by Robert McKinnon. We began with one old plastic injection molding machine in a 3,000 sq. ft. rented building. Thanks to our teams dedication to customer satisfaction, we now own a 35,000 sq. ft. facility which houses both our plastic molding and printing operations. Our company continues to grow and expand it's capabilities to meet our customers needs.

As our plastics molding company grew, we found that many of our customers were needing their products shipped from our facility to printing companies to be finished and then on to the final destination.
For our customers' connivance Peliton began a graphic arts department, purchased screen printing equipment, hired an experienced staff and began printing in house.
Our customers were quite happy with this new service, however we were limited to flat surfaces. As the variety of products we produced increased we found a need for printing on more complex surfaces, (spherical, conical, convex, concave, etc.)..
In 2012 Peliton again expanded it's capabilities by purchasing new pad printing equipment, building a climate controlled printing room and training it's staff, thus adding new dimension to Peliton's printing capabilities.
Today not only do we print on items made at Peliton, we print products that are shipped to us from all over the United States.
We pride ourself with quality, pricing, speedy and on time delivery and customer satisfaction.
Our company philosophy is when your project is a profitable success, our company a success!
Contract Pad Printing Service
Call us today for a quote
on your Pad Printing Project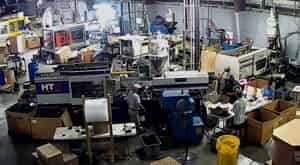 Visit Peliton's Plastic Injection Molding Website